I am a law abiding person.  Most of the time.
I like to abide by the laws of the Interweb and write proper code according to standards.
I like things to validate.
Now, as you may have noticed, I have a blog.  It runs on WordPress, and that validates beautifully.  However, my site fails validation.  Why?
I have tried to clean up my site but all I get is this: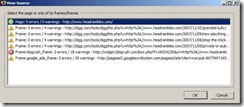 So all the errors are caused by code from Digg, Google and Blogrush.  There is nothing I can do about this, apart from removing them from my site.
Is there any way of fixing this, short of buying out the companies and fixing their code?  That seems a bit expensive?  I know if I write to them, they'll just ignore me.
-oOo-
Another thing that p*sses me off is Blogspot.com
Why can't they write code that works in Firefox? 
A few of my favourite blogs run in Blogspot and they appear to be fine.  Until, of course I go to write a comment.  I click on the Comment link, and I get this…
Now, I cant see the right hand side of this little popup.  I can't resize the window.  I can't scroll sideways.  In other words, it's useless.  So I have to open the site in Internet Explorer.  I hate Internet Explorer.
If you have a blog on Blogger, and I comment on it, then feel honoured. 
I've gone to a lot of needless trouble.