I was wandering around KirkM's site at Just Thinkin' and I found a new toy.
It's a yoke called Windows Live Writer. So I thought I'd give it a try.
I don't know if it will work, but it has some features that I quite like. It is a little bit more user friendly than WordPress, and has a few extra features [Insert Map!]
The main thing though is that I can create my musings on my Remington, without being connected to the Interweb. Now this doesn't make any difference to me, but it will make a huge difference to the likes of our K8. It means she can write nice long posts, without having to run up huge phone bills.
You write your post on your PC. You can play around with it until you are happy. Then you connect to the Interweb, press 'Publish' and up she goes. I don't know if it will work. I know it connects to my site all right, but this is a first attempt at publishing anything.
If all your PCs suddenly explode, then I'm sorry.
If half of Dublin vanishes under a mushroom cloud, when the server blows, then I'm sorry.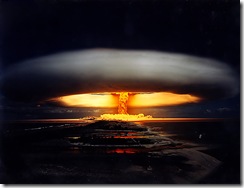 If that happens, I'll go back to WordPress.