I received a phone call yesterday.
That b*st*rd Dick passed it on to me. Revenge?
It was from a client who is complaining about his mail not working.
I hacked into his account and went in to the bit where mails are set up. It seems he has been setting up his own mails.
Now, for the uninitiated [including myself], there are two types of account here – a POP account which is where you log in and retrieve all your mails [similar to a Gmail or Hotmail account], and there is a Redirect. A redirect is where you write to that address and it is forwarded on to another account. So when you write to me at grandad at headrambles, it gets forwarded to bertie@irlgov.ie. Got that?
Now this company have set up a total of 36 POP accounts, and another 27 Forwarders. Nothing wrong with that? [apart from being a bit excessive?]
Well, there is.
Because a lot of the addresses are the same on both lists.
So if I write to A, it might end up in A's account because he has one. Or it might be forwarded to B and C because A is a Forward account as well. Now we don't know which it will go to, but we assume it goes to B and C.
But B has an account and it also has a forward which points back to A. So that poor old mail may end up going in circles until it dies of exhaustion.
So their mail system is a spaghetti of interconnecting mail accounts which they set up. It is no f*cking wonder they are having problems.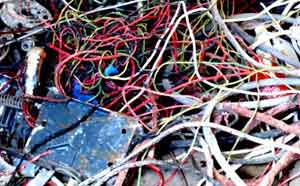 So who are this company?
They are a major training company here in Ireland. And what to they give courses in and degrees in?
Yup.
Computing.
Of course I deleted all their files and put a porn site there.
They don't deserve to have a web site.