Yesterday was a good day.
It ended with my winning the Rose of Tralee thingy. But I'll come to that later.
We went down to the village yesterday to celebrate the fact that the sun was actually shining. I had a very pleasant coffee or two and a puff on the pipe while Sandy gnawed on a tourist child she'd found. Herself went shopping.
We got home to find K8 and Puppychild and Sean there. They had broken in [again] and had made themselves at home.
Puppychild found a pistol that was lying around. She picked it up, pointed it at Herself and shouted "Fweeze!". Now they don't have television, so she must have heard this from TAT. I keep telling him not to bring Puppychild with him when he is making 'withdrawals' from the bank.
We all played in the garden. I played tennis with Sandy [she has a vicious back-paw!], and Puppychild played with the pistol.
Next thing I knew, she shot me in the leg. She thought this was hilariously funny and shouted "I got you, Gwandad" and collapsed laughing. The blood started pouring down into my shoes, and she thought this was even funnier. "You're wet" she shouted, and collapsed again. I love that child. She is so happy.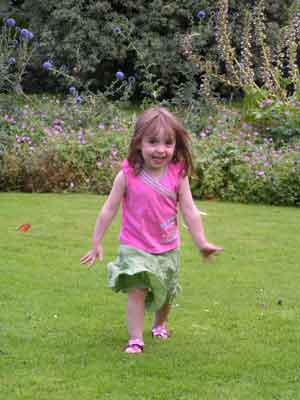 So she carried on taking pot shots at Sandy, while I went in to put on a bandage and get ready for Tralee.
That latter was a bit of an anticlimax.
I entered myself as the Mountain Rose.
I gave Ray D'Arcy a bit of a hard time, and when he asked me about boyfriends, I told him he was a f*cking w*nk*r and to mind his own f*cking business. This went down very well with the crowd, though I think it was when I head-butted him that I got the greatest cheer.
I won, of course.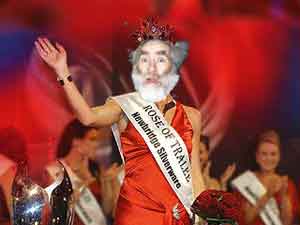 Unfortunately, I was disqualified after I was found in a highly compromising position with Sharon Ní Bheoláin behind the Dome.
Maybe anticlimax is the wrong word.