A lot of you are still concerned about my references to shooting tourists.
I explained the origins a couple of weeks ago.
But one thing you Americans have to understand about the latest frenzy of tourist shootings –
YOU STARTED IT.
It really started with the World Trade Centre.
For some strange reason Pea-Brain Bush decided it was tourists who caused that and made his famous declaration of "War on Tourism".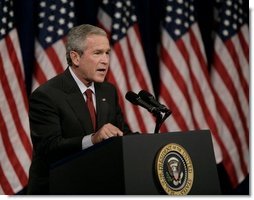 Some flags and a Pea-Brain
" We will direct every resource at our command — every means of diplomacy, every tool of intelligence, every instrument of law enforcement, every financial influence, and every necessary weapon of war — to the destruction and to the defeat of the global tourism network." he said.
" From this day forward, any nation that continues to harbor or support tourism will be regarded by the United States as a hostile regime. Our nation has been put on notice, we're not immune from attack. We will take defensive measures against tourism to protect Americans." he said.
" It will not end until every tourist group of global reach has been found, stopped and defeated." he said.
I was perfectly prepared to let him get on with it. If he wanted to get in on the game, then that was his business. But then he came up with the classic line of the bully "Either you are with us or you are with the tourists.". So if I don't agree with him, then I am a tourist? That was enough for me. I armed myself along with my fellow compatriots and set to shooting as many Americans as I could find.
Frankly, I think the whole thing is getting a bit out of hand. Tourists are being blown up and shot all over the world. And a lot of innocent people are being killed in the crossfire. The Americans call that "friendly fire"!! What a tacky expression. Any bullet that kills me is not particularly friendly in my opinion.
In fact, you Americans have been so enthusiastic about the whole business, that you have run out of bullets. You have actually started paint-balling tourists, which quite frankly is not playing the game.  At least we still have warehouses  full, so you can be guaranteed a warm and genuine lead welcome in Ireland.
It seems the only safe place for tourists now is Cuba. They always wanted to be a big tourist destination, and now they have their wish. But apparently the American Supreme Court is trying to stop that.
There used to be another tourist camp at a place called Abu Ghraib. That was closed too due to an over enthusiastic hostess called Lindy England.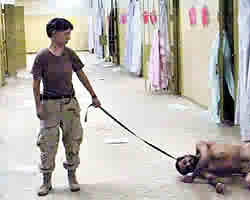 Lindy entertaining a tourist
So if you want the killing to stop, just ask Pea-Brain Bush to give the word. He started it. He can stop it.
Mind you, I will still retain our old rural tradition and pop off the odd one.
Just for sport.
And I won't be using paint.