There has been some concern and confusion about my references to shooting tourists.
I had better explain.
Back in the early 80's the Irish Tourist Board launched a campaign advertising the beauty and friendliness of Ireland as a tourist destination. Unfortunately, they were somewhat overzealous and this resulted in a tourist influx which was unprecedented. Within months, our roads were crowded, our scenic spots couldn't be seen for the crowds and there was no accommodation left.
This left the Irish Tourist Board and the Irish Government in an embarrassing position. They couldn't ask people not to visit, but yet the infrastructure was not in place to cope with the influx.
What was worse – some of the visitors decided that Ireland was such a beautiful place that they decided to settle here. This pushed land prices up to an extent that local residents were unable to live there any more.
The solution arrived at was to cull the tourists. Seal culling had led to a lot of adverse publicity for Canada, and it was therefore decided that tourist culling should be kept as quiet as possible.
Tourist culling was heavily regulated from the outset. It is a licenced sport, and the rules are strict. The culling of the young is prohibited as is the culling of fertile females. A kill must be as clean as possible. We didn't want photographs of the Irish clubbing baby tourists to death on blood soaked beaches. I think the Canadians will testify to the undesirability of that.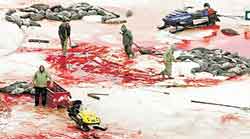 Since then, tourist culling has become a popular sport. It is carried out in most parts of Ireland, though incidents are rare in the major cities, because of the danger to locals.
It is run on a points system, with maximum points going to a cull of tourists who are obviously contemplating buying land. It is a complex system of scoring, which I won't go into now.
There have been attempts to outlaw the sport in recent years, as people are arguing that we now have the road and hotel infrastructure. However, we who enjoy the sport have taken the same line as the fox hunters in the U.K. – namely that it is now a rural tradition, and that there is no cruelty involved.
-oOo-
On a personal note, there has been some concern on another website that I may be facing a long prison sentence. This is not true. There is no penalty for licenced tourist culling. I was electronically tagged for a short while, while the police investigated my shooting of Ron. I have been completely vindicated and am back on the hunt.