I think I'm going to sign myself into the knackers yard.
For the last three days I have had to put up with getting up early in the morning, noise, dust, being confined to the junk room and waterfalls in the bathroom.
The floor is finished now and it is a great job.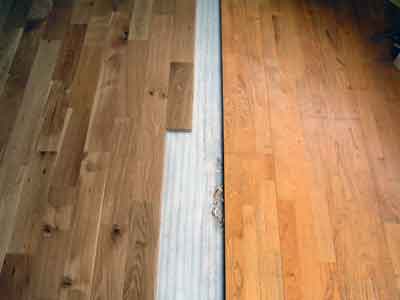 New floor on left
Old sh*t floor on right
Yesterday, I had to move all the furniture back [and Herself wanted everything in different places and tables swapped between rooms…..] and start on the tidying process.
Today I have all my work to do that I wasn't able to do since last week, a mountain of scrap timber to move over to the Cowboy's shop to set fire to, a table to dismantle, some old radio equipment to dispose of in a ditch somewhere and some work to be done on the tank on the roof. The grass needs cutting and there is packaging from the flooring blowing around the lawn.
And it's about to rain again.
So what am I going to do?
Nothing.
The table can stay where it is, blocking the doorway. The old flooring can stay where it is in a huge pile on the lawn. The waterfall in the bathroom can remain as a tourist attraction. My work can wait one more day. The grass can grow another couple of inches. The radio equipment can remain cluttering up the place.
I have my old armchair back.
I'm going to sleeeeeeeeeep.