Bumblebees are the most idiotic creation.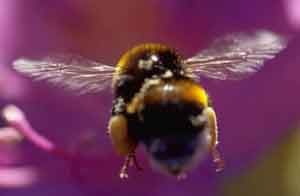 They are thicker than a politician's wallet.
For once, the weather isn't bad here. I have the French doors open beside me [I got them in Ireland. I don't know why they are called French], so I can enjoy the sound of the birds, and the builders.
Flies and wasps are sensible. They know where they belong. In the garden. Not so, the bumblebees. They are queuing to fly in through the open doors.
So here is a message for all bumblebees:
If you must fly in my doors, could you please go out the same way. There is NO POINT in thwacking yourself off the windows. You will not get out that way.
When I try to help you by carrying you to the door on a piece of paper will you please not abuse my consideration by suddenly flying back to thwack yourself off the windows again.
If you must thwack off the windows, could you please avoid the spiders web above my head. I am getting tired of the buzzing. You sound like a demented dentist.
Have you not heard that aeronautical engineers have studied you, and your wing-area to body-mass is all wrong. You are unable to fly.
So buzz off, and stop annoying me.