When there is a vacuum in your life
We have a new animal in the house.
I went into town yesterday and bought it.
I had better explain that Herself has a bit of a fetish for vacuum cleaners. In our time together we have gone through quite a few. We haven't worn them out or anything, but every now and then Herself thinks she has seen one that is better than the one we have at the moment.
We recently splurged out on a Dyson upright. It was a good one, and it did the job admirably. But then she read something about the Dyson Animal and she wanted one.
Her birthday is coming up soon, and I thought it would be a nice romantic present. It's a 'big' birthday. Not quite her 21st, but along those lines [mind your own business!]. I like buying her romantic presents. I got her a washing machine for Valentine's Day.
Unfortunately, she saw me taking it out of the car, so the surprise element is gone. She had to unpack it there and then. She played with it happily all last evening, and has set the alarm this morning so she can play with it again.
It is a very strange looking machine. It looks like it has been turned inside out, with all the moving bits on the outside. Actually it looks very like a nuclear device. I must check to see if it has a trigger mechanism, and what its megatonnage is.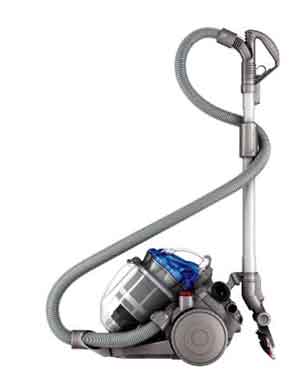 By this evening, she will have grown tired of it and will be playing with the box.
By tomorrow, she'll be scouring the catalogues again.