One of my neighbours has decided to knock his house down.
Quite why he's doing it, I'm not sure. Maybe he doesn't like the wallpaper?
I offered to do it for him, because I have some spare Semtex left over from last Halloween. But he said no.
Anyway, a van load of Poles arrived yesterday along with a lorry load of poles. The Poles erected the poles around the house and started work. I don't think my neighbour had expected them to work so quickly and he had to move out. Fast.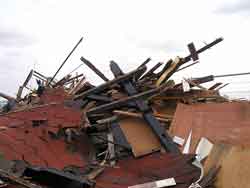 A lorry arrived today to cart away the remains. There is no way they could get into the driveway so they parked the lorry in the lane and used one of those grab things to scoop the rubble onto the lorry.
The only snag was that the lorry was the precise width of the lane, so no-one could get past it. Not even on foot. And there was a lot of rubble to shift, so it was there a long time.
My doorbell started ringing.
"I can't get home. Can you ask them to move the lorry please?"
"But that lorry has nothing to do with me" says I.
"I know, but they won't talk to me. Maybe they'll talk to you?"
"No. They won't talk to me" says I. I didn't say that this morning, the Poles had all been sitting in a circle eating their breakfast. Our Sandy got out, went over into the middle of the circle and did a huge dump in front of them all. This was a bit embarrassing for me, and very strange as our Sandy is usually very discreet. Maybe she doesn't like Poles?
"Can I take a short cut through your field?"
"No. Go sit in your car and be patient!"
This happened twice. Different people. And these people get their oil delivered or whatever, and they block the lane , but I don't complain. People are so damned impatient these days.
What I don't understand though is that whenever something goes wrong in this area, people always blame me.
Why?