The aerodynamics of dog turds
I cut the grass yesterday.
It had been getting quite long and the dog kept getting lost. But it's short now.
So I decided to practice my golf as I hadn't tried my new clubs yet.
Now the only problem is that I don't have any balls. And I mean golf balls before any of you come up with smutty remarks. So I thought I'd try out with pine cones. I have thousands of those from the woods. They work extremely well, though they aren't very aerodynamic so they tend to curve in flight.
It wasn't long before I was sailing them across the road and into the valley beyond. At one stage I managed to sail one in through the open door of a tourist bus that was driving past. With a bit of luck, I might have hit someone.
Then I remembered our K8's idea about using dog turds. So I brought in a pile from outside the gate. They were nicely sun-dried and ripe for driving. All I needed was a target.
Our neighbour put up a rather ugly extension some years ago that blocks part of our view. I always hated that extension. But it made a perfect target.
If anyone is interested, dog turds are much more aerodynamic than pine cones. I could aim straight and true. The neighbours extension now bears a remarkable resemblance to a large Jackson Pollock. It looks a lot better. As long as the wind doesn't blow from that direction.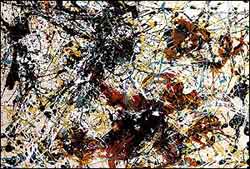 I have to wait now for the local dogs to produce more golf balls. Assuming it is from dogs, of course.
And in years to come, if the pine cones take root, I'm going to have a lovely forest in the valley across the road.