A friend just sent me an e-mail.
He did it to wind me up, because it's Friday and because he likes winding me up.
He sent me a news item…….
A High Court judge in Belfast is due to rule today on a GBP£100m (USD$196 million) compensation bid by 5,000 serving and former police officers who have claimed post traumatic stress suffered during years of violence in Northern Ireland.
Could someone please tell me what is going on here?
These people applied for a job in the police service. They presumably knew it was the police they were joining. Maybe they were all Enid Blyton fans and thought the police were all like Mr Plod?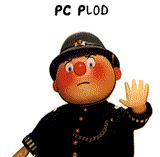 It must have been quite a shock to them to find that there was a little bit of violence involved. Is it this shock they are claiming for?
The majority of the people in Northern Ireland never expected the violence either. But they weren't allowed to go off duty. They weren't being paid either. Maybe they should all bring an action against the police for not stopping the violence? after all, the police are going to have £100 million to share around.
Personally, I am bringing an action against the British Government for not shutting the politicians up. I am suffering from post-traumatic disorder. My nerves are in shreds. If I ever hear Gerry Adams talk about "the realidy of the sityeaashun" again, I shall scream.