I think Beverly Cooper-Flynn is an amazing person.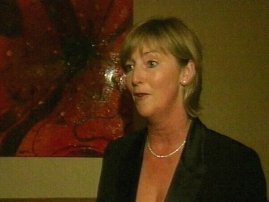 For those of you who don't know her, she is the daughter of Padraig Flynn who was a slime-ball politician who thankfully has been thrown out of public life. Beverly is cut from the same cloth. She was a politician and a banker and was exposed by RTE for promoting offshore bank accounts to avoid tax [slightly illegal]. She was thrown out of Fianna Fail and became an Independent TD.
She then sued RTE for defamation of character and lost. As a result, she faced a bill for over €2 million in legal costs which she owes to RTE.
She offered them €600,000, which [surprisingly] they refused. They are now demanding €3 million off her as there is a little bit of interest accruing. She said she was broke and didn't have the money.
So RTE brought her to court and is trying to declare her bankrupt.
Now, if a sitting TD [member of the Irish parliament] is declared bankrupt, they have to resign, and she didn't like the idea of this, so she is appealing the bankruptcy case.
This is where the interesting bit starts.
Suddenly, in the space of less than a week, she comes up with €1.3 million which she paid to RTE. Maybe Bertie or his pals gave her a loan? I doubt she could have made that much on the streets unless she's selling drugs? Maybe she found it down the back of a cushion?
Anyway, she has now declared that she has paid RTE in full. I like that. Next time I owe someone €100, I'll pay them €45 and tell them the bill is paid. But I don't think RTE see things in the same light. I think they are better bankers than Beverly, and can see a slight discrepancy.
Bertie has now seen her in a new light. She is a fellow soul who is able to conjure up vast sums of money to save her skin. She has no financial morals. She is obviously his kind of bird, so he is welcoming her back into the Fianna Fail Party with open arms. There is even talk of a ministerial position.
She should become Minister for Finance. With her amazing financial wizardry, she can sort out all the countries financial problems, and still show a profit.