While we had our drunken orgy quiet holiday, our K8, Puppychild and the Mad Dog looked after the house and Sandy.
They stayed on last night and K8 cooked a lovely dinner for us. In return, I looked after Puppychild this morning. Her latest hobby is face-painting, which she does with coal-dust so all this morning she was the living image of Adolf Hitler.
But I digress.
As they were leaving at midday, somehow our Sandy got out. She did it very quietly so we didn't realise she was gone.
Then there were a couple of loud claps of thunder.
Our Sandy hates thunder. It drives her into a frenzy and she acts very irrationally -a bit like a woman with PMT. So I went looking for her to make sure she was OK, and had enough blankets to cover her head or whatever. That's when I discovered she was gone.
I walked up and down the lane in the rain whistling my head off. No sign. I began to get worried as thunder induced irrationality can have strange effects on her. Then, to make matters worse a neighbour stopped to say she had seen Sandy about a quarter of a mile away slinking into a hedge.
So I got in the car and drove up and down, and back up again. I drove sideways and up to the bogs and down to the village. I stopped and asked total strangers [most of them foreign]. I gave my phone number to the nice looking women I met and got chatting to the bloke who is building a house for our K8. Loosing dogs is a great way to meet people.
Finally Herself rang me to say a man had her [Sandy, not Herself] down by the village. So down I went and collected a very embarrassed dog. She was wringing wet, filthy and stank to high heaven of sh*t. but then so do Herself and I, so we don't mind.
I suppose if we hadn't found her, we would have to have been headline news on ITN, and the world's meeja would have ended on our doorstep as we made impassioned pleas for people to keep an eye out on their holidays.
But all's well that ends well. Sandy is back after her little adventure and is busy leaving muddy stains on all the furniture.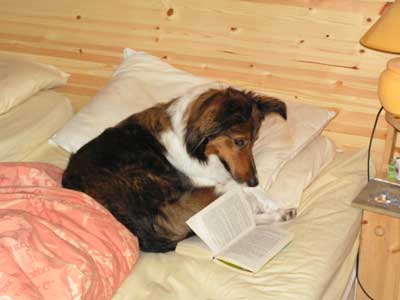 All I have to do now is find my pipe which got lost in the panic.
It's the second damn time I've lost it today.