Just talk amongst yourselves.
There are times when life's a bitch.
We have had some very nice sunny spells here over the last month or two. I have a nice tan from sitting in the garden. Even in the last week, the U.K. and Norn Iron have been inundated with very bad floods, while we have only had a little bit of rain.
We are off on our little holiday today, so I looked up the weather forecast for the area we are going to. This is what I got: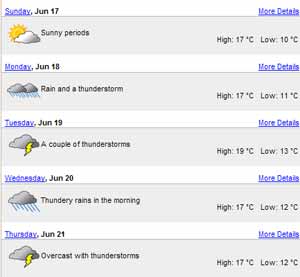 So it will be nice for the journey this afternoon, but as soon as we arrive, it will start to rain.
I like the way we are going to have a thunderstorm on Monday. It's clever of them to know that there will only be one. But it will probably last 24 hours. Luckily I like thunder. Herself hates it.
There is no Internet access there. I know they have a telephone, but I'm not sure about electricity. Actually, after all that lightning, I doubt there will be electricity! So I will be spared the Internet. And you lot will be spared my ramblings.
There is a covered portico at the front of the hotel. So I shall sit and watch the lightning and slurp my pints and smoke my pipe.
So if you are in the West, and you see a lone figure dressed in oilskins from head to toe [with a pipe sticking out from under the hat brim] supping a pint in the pouring rain – that's me.
If I'm not back by Friday, I'll will have been cut off by flooding, drowned or will have been struck by lightning.
In the meantime, while I'm away, just talk amongst yourselves.