New government receive new cars
A fleet of Mercedes-Benz C-Class cars have been delivered to Government buildings today.
Bertie Ahern announced at the delivery ceremony that the new cars "reflect the eco awareness and new green approach by the government".
It is understood that the new cars use a revolutionary new fuel saving technique in that they are flatulence-powered. Excessive flatulence is stored and can be transferred to other vehicles.
Mary Harney and Brian Cowan have suddenly become very popular within ministerial circles.
Government ministers are delighted with the new system as it compels them to drink excessive numbers of pints before driving, in order to provide the necessary fuel.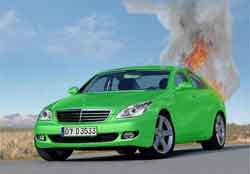 The government are now looking at other means to reduce energy consumption in the Dáil.