Weird and wonderful pipes
I wrote a couple of weeks ago about my beloved Ronson pipe, and my quest for a new bowl for it.
It was one of my first pipes, so I've had it for about 35 years.
I liked it because it filtered out the goo and the tobacco didn't end up all soggy in the bottom of the bowl.
I got in touch with a Belgian who has his own business making pipes. He sent me a bowl. It worked, but the thread was a bit loose, so it leaked a bit.
Elie, who runs the business is, by all appearances a very nice person, and was very apologetic about the leak.
I took the bull by the horns, and placed an order for a new pipe, that has a plumbing system sort of on the lines of the Ronson. It arrived a couple of days ago. I opened the box, not knowing quite what to expect and found not only my new pipe, but a spare bowl, pipe cleaners, another spare for my Ronson, and a pipe lighter!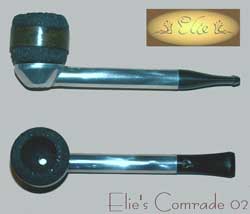 My new pipe has a weird but very effective system. It has filters and traps and condensers and God knows what else. And at the end of a pipe-full, I remove the bowl and there is all the sh*t that I had been smoking previously.
Elie has a great website – Elie's Freehand Pipes [I like nicely designed websites], and has a great range of very strange and wonderful designs.
I think I'll save up and buy myself one of these…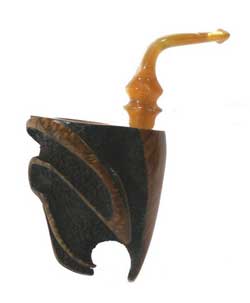 Or maybe one of these…