Warning to the people of Panama
I'm a fair bloke.
I like to give people a chance.
So here is a warning to the people of Panama. You are about to be on the receiving end of a series of intercontinental nuclear missiles [of about 50 mega tonnes each] that I picked up on eBay from a bloke in Moscow.
You see, I have been on the receiving end of a series of comments to my blog that have been coming in at the rate of about 100 an hour.
And they are all f*cking stupid. They are all marked "ka-ka-sh-ka" and I don't even know what that means. They are all about the weirdest topics and I AM NOT INTERESTED. I have hundreds of the damn things.
I don't want to know about "Books about apartment florida in miami" or "Popular authors of kokos gold fish articles" or "This site is about metal license plate frame" or "homepage of montana horse ranch" or even "Relevant links for free wedding site".
Ron tells me that apparently they are all coming from Panama. So I'm afraid you have to go.
I got some nice targeting software from the same bloke. He threw it in for nothing [nice one, Boris. I gave you a five star rating] and here is the proposed missile path:
As you can see, the software has recommended an initial strike of 13 missiles, so we'll see if that does the job. If it doesn't, then I have plenty in reserve.
If you are in the habit of driving from North America to South America [or vice versa] then I'm sorry, but you'll have to take the ferry from now on. On the other hand, shipping companies will save a fortune. This is what the map will look like after: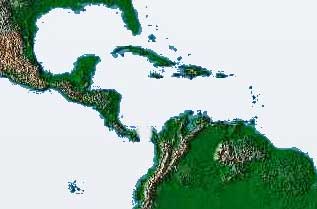 Again, I apologise to the people of Panama. I'm sure you are a nice nation. But you must understand that I hate spammers.
You'd better start packing.
I reckon you have about five minutes.