Anyone who has read this blog might have guessed that I am a pipe smoker.
To a pipe smoker, the pipe is as important as the tobacco.
One of the first pipes I had was a Ronson.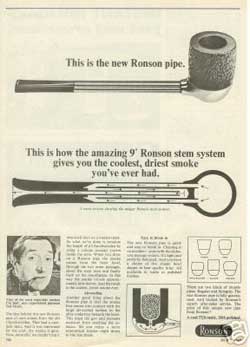 It was a strange affair in that it had a plumbing system. It cooled the smoke and trapped all the gunk and was a very nice pipe to smoke. It was a bit tricky to clean because of all the tubing though.
Later, Ronson produced a different version, which was even cooler and had a simpler plumbing system. It had a round barrel and just two tubes that overlapped in the middle. It was much easier to clean, and was just as cool and clean.
I still have both pipes, but unfortunately, the threads have worn out on the bowls, so I can't use them. Ronson don't make pipes any more, and noone makes bowls with that type of thread. That is a crying shame because I loved those pipes.
Another one I had which I liked was my churchwarden.

A churchwarden is a lovely cool smoke because the smoke has to travel further. Though I used to get the odd strange look in the pub. They need special pipe cleaners too, as the regular ones aren't long enough. The one problem with them is that they are very delicate, and the two I had both snapped. Bugger.
When I was in France last year, I treated myself to a couple. One is a EWA "Aubrac" which is nice and has a lovely carved bowl. The other is a St. Clauds "Amsterdamer" which has a nice feel to it in the hand. I have several others lying around of various shapes and sizes.
But I really miss my Ronsons