In the old days, the heart of Dublin was Nelson's Pillar.
It was the focus of the city. It was marked as the destination on buses going to the city.
I used to love that pillar. For 6 pennies [a tanner] you could enter the dark doorway, and climb the spiral staircase inside, right to the top. The view was fantastic. The flower and fruit sellers used to have their stalls around the base. It was a meeting place. I loved it.
In 1966 the IRA blew it up. The bastards. It was supposed to represent "British Imperialism" or something. Crap. It was an icon of the city.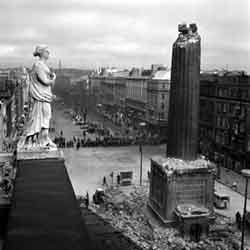 They should have left the stump as a monument to stupidity.
It was removed though, and replaced with a "fountain". That was an ugly yoke. It was a figure of a very depressed looking female sitting in a tub. It was supposed to represent the river Liffey. It became known as "The Floozie in the Jacuzzi" and became a handy place to dump your old beer cans and McDonalds junk. It was removed.
I can't describe what replaced it. It's not a monument. It's not a statue. It's certainly not a building, even though they employed a firm of architects to "design" it. I don't know how much training they had to learn to draw a straight line?
It cost nearly 5 million Euro to put up. But what is it?
It is completely functionless.
If they grew sweet pea plants up it in the summer, it would be nice. If they had drilled holes through it, it could have made a fluting noise in the wind. If they had attached mobile phone antennas at the top, it would have a purpose. Come to think of it, a mobile phone mast would have been more attractive.
It is supposed to be self cleaning. I have this vision of it waiting until no-one is looking and then shaking itself like a dog. And they still have to clean it every year!
It has, of course attracted a load of colloquial names:
Bertie's prick,
Stiletto in the Ghetto,
Erection at the Intersection,
Stiffy by the Liffey
It even has it's own website for god's sake. The only nothing in the world to have a website.
I don't like it, because there is nothing to like. I don't dislike it, because there is nothing to dislike.
I just wish someone would tell me what it is, or what it does, or what does it represent?
What is the point?