Are you mad or is it just me?
I have been blogging now for six months.
I have written a load of drivel.
If a newspaper approached me and asked me for one of my good articles, I wouldn't know where to look.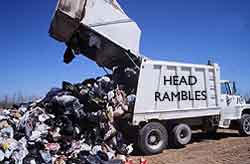 Some of my posts have been rants. Some of them have been musings. Some of them are totally insane. I think I'm going insane. Herself tells me I'm totally insane. My doctor is giving me funny looks. People cross the road to avoid me.
But what worries me is that the worse my writing[?] becomes, the more you lot respond. Have I tapped into a subculture of the criminally bewildered? Have you nothing better to do?
I have tried to confuse you by flitting from subject to subject. I'm like a bewildered bee in the Chelsea Flower Show. Even I never know where I'm going next. But you follow along and post your comments, and for some utterly inexplicable reason, my readership is growing.
Don't get me wrong though. I like the comments. Some of them [and some of the e-mails I get] prove that there are people out there who are worse off than I am. Poor souls. I don't get many direct e-mails, but one or two of them have been scary. A lot of the comments make me laugh. That's good. Some of you even say that my posts make you laugh. Weird.
I notice that traffic to my site increases quite considerably during working hours. Is that it? Are you just so bored with your jobs that you will read anything? I'm posting this on a Sunday, so probably no-one will read it anyway.
So what am I doing that keeps you reading? Am I the ultimate car crash? You are revolted by what you see, but you have to look anyway? A bit like the Eurovision Song Contest?
So what am I doing right? What am I doing wrong?
What the hell am I doing here at all?