Some time ago, I wrote about Sean.
He is that kind of kid – inspirational.
Sean has Cerebral Palsy. When I tell people that, they say they are sorry. An elderly friend always refers to him as 'Poor Sean'. There is nothing to be sorry about. Far from it. I'm not saying I'm glad he is the way he is – I'm not. Of course it would be great if he could run around and chatter away. But then he would be ordinary. And he wouldn't have given us that Something Special.
It is exceptionally unlikely that Sean will ever walk or talk.
He will never run a race. So what?
He will never write a book. The libraries are full of books.
He will never drive a car. The road has enough cars.
He will never give a lecture. do we need another lecture?
Most people can do these things.
But how many people can inspire pure love? How many people can make you happy just by their presence? How many people can, without saying a word make you feel that the world is a better place?
People may say that Sean is a 'special person'. Sean is Sean. The only way he is special is that he has turned everyone who knows him into special people. We care for him. But we care for each other more too. He has made us softer and more gentle. He has brought out the caring in us. He has made us more tolerant.
In my own case, I do what I can for the Jack and Jill Foundation. They looked after him and his mother so well when they needed help the most. Even though Sean is no longer on their books [because they provide respite care for the parents of young babies], I still want to help them [and they are always in need of a few bob]. They do fantastic work, and without Sean, I probably never would have heard of them.
They helped our K8 when she was in crisis, when she was coming to terms with being the mother of a disabled child. Now she is just the mother of Sean. We don't see him as disabled. We see him as a lovely, loving child. Mind you, he's nearly six now, so he is a young boy.
Sean may not talk to us, but he talks to the angels. He sits quietly, smiling to himself. He will laugh with us. Sean will never ever laugh at us. But I think he can see a world that we can't see.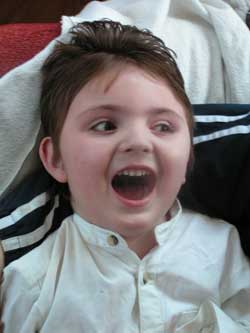 Sean having a good laugh
Sean – the world would be a much poorer place without you.