" If repeated often enough, a lie will become the new truth. "
Paul Joseph Goebbles, Minister of Propaganda, Nazi Germany
What exactly are the dangers of passive smoking?
I have been trying to do some research on the Interweb, and I am finding some very conflicting evidence.
One research found that passive smoking is equivalent to smoking six cigarettes a year.
Another quotes the following from a study of German flight crew –
"We found a rather remarkably low SMR [standardized incidence ratio] for lung cancer among female cabin attendants and no increase for male cabin attendants, indicating that smoking and exposure to passive smoking may not play an important role in mortality in this group. Smoking during airplane flights was permitted in Germany until the mid-1990s, and smoking is still not banned on all charter flights. The risk of cardiovascular disease mortality for male and female air crew was surprisingly low (reaching statistical significance among women)."
So what is the risk?
The entire basis for the smoking ban was to "protect non-smokers in a smoking environment". The key word here is 'protect' [i.e. to remove a potential harm].
Most of the studies I found that proved passive smoking to be a danger were either biassed or anecdotal.
So let's just say the jury is out on this one.

The jury is also out on the effects of mobile phones and phone masts.
Yet I have seen no laws banning the use of mobile phones? Why?
To me, the danger of mobile phone usage is possibly more important than the dangers of passive smoking.
I find mobile phones to be very irritating. I resent my peace being shattered by some bimbo shrieking that she is "sooo not happy" at not being invited to someone's party, or some yuppy conducting some bit of ego-boosting business on the train.
I constantly have to be on the lookout for people who are driving while waffling on the phone. And I'm talking about hands-free phones here, before you all start moaning. They are concentrating so much on the conversation that they are completely unaware of their surroundings. The same goes for people on pavements. They barge around, pushing people onto the street because they are so wrapped up in some little domestic or social crisis.
And what of the dangers of radiation from all these phones around me? Not to mention the masts? Is my brain being constantly fried every time I go into town? Is this the cause of my insanity?
What about the kids who get mugged, beaten up or even murdered for their phones?
What about the invasion of privacy with the proliferation of camera phones?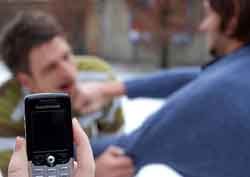 Happy-slapping?
Mobile phones are a far greater danger to public health than passive smoking.
I just thought I'd run the idea up the flagpole and see who salutes.