There are basically four types of bus used for public transport.
The big ones are the double-deckers and the articulated single-deckers [though I haven't seen many of them]. Then there are the ordinary single deckers and finally the little Imps.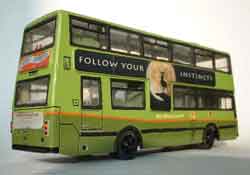 Double decker buses predominate. They are ideal for large volumes of passengers in urban areas.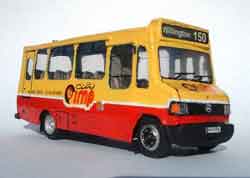 Imps are designed for very low volumes of passengers in rural areas.
I live on a lane off a 'main road'. When I say 'main road', I mean a country road that is very hilly, has very bad bends on it and it doesn't really go anywhere except up to the bogs.
But we have a bus service. There is a loop up the road that is used as a terminus. Not many people use the bus, as most have cars. But there are a few folk who use it and it is very handy. So what kind of bus do you thing is most suitable for this route [hint: look at the images above] and what kind of bus is used on the service?
Correct.
The double decker.
A strange phenomenon though is the volume of double-deckers that pass at night. And they all seem to drive in first gear. You can hear them for about half a mile in each direction as the roar up the hills or roar around the hairpins. No sooner is one gone, than another appears. And they never have more than one or two passengers.
Then I realised what was going on.
The drivers are frustrated with traffic snarl-ups all day. They have to cope with all the other idiots on the road, timetables and, worst of all, passengers.
So to give themselves a break, they all head out to our nearby town. They line up. And then they hold races to see who can get up to my terminus and back the fastest. I'm glad they are enjoying themselves.
But they don't half make a racket.

let the races begin