What ever happened to the autocycle?
Back in the 60s, the roads were full of them.
They were cheap, as safe as a bicycle, very economical and they got you around.
The entry level was the Velo Solex. This was a brilliant yoke. It was essentially a heavy bicycle with an engine strapped to the front fork.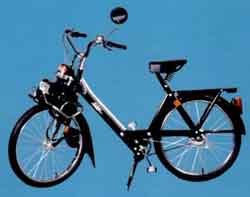 It was capable of about 20 miles per hour, but it took all the effort out of cycling. You just got up to speed on the bicycle, lowered the engine onto the front tyre and off you went.
A friend of mine had one. Or rather, his father did. So we used to rob it and trundle up and down the road. It was the first time I ever drove anything mechanical. It was brilliant.
When I was 16, I was given my sister's autocycle. This was a Mobylette, and was the Ford Escort to the Velo solex's Mini. It was a powerful bike. It was capable of a good 30 miles per hour on a good day.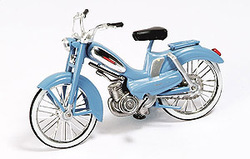 This was a real autocycle, and I was very proud of it. It had a 50cc engine and did about 300 miles to the gallon. It was fully automatic, with no gears or clutch – you just opened the throttle, and away you went. I don't ever remember having an accident on my Mobylette. All I remember was that it was fun to drive and was incredibly cheap to run. Tax and insurance were very low, and I used to fill up on petrol a few times a year.
The only motorbikes you would see on the roads were the Honda 50s. There were thousands of them. Of course, I had to go one better when I was 18, and I traded in my Mobylette for a Yamaha 80. Wow!! What speed!! I could nearly get up to 50 on that. That bike and I travelled the length and breadth of the country, and a fair bit of England too. It too was very economical to run. My record was to travel from Dublin to Somerset for £5. And that included the ferry fare.
Nowadays, the only vehicles you see on two wheels are those motorbikes with a rear tyre borrowed off a tractor, with about six exhausts that are tuned to sound like a Boeing 747 taking off. They are incapable of doing less than 150 m.p.h. and are a menace. They are noisy and dangerous. They weave in and out of the traffic lanes on the motorways, overtaking and undertaking everything in sight.
You couldn't do that on a moped.