Are people trying to tell me something?
I wrote a long time ago about how there was always a little pile of poo outside my gate.
A theory was put forward that it was the postman, as postmen have to go somewhere.
So I asked him.
He said no, it wasn't him. He said he always kept his poo for a neighbour who was always getting heavy parcels delivered, and they were never in.
So that remains a mystery.
Offspring and I did a bit of gardening yesterday. We had to cut back a hedge because it was blocking the view. Actually, it wasn't so much a hedge as a mass of brambles, and I don't have much skin left on my hands as a result.
One thing we found was a massive hoard of empty beer cans and beer bottles. One corner of the woodland, nearest the road is full of 'em. They were all different brands, and would have made an interesting collection, only the cans were rusting and the labels were coming off the bottles.
Where did they come from?
I could understand it if there were a pub nearby, but the nearest pub is well over a mile away. I could understand it if it were the only dumping spot around, but there are loads of hedges they could lob their junk over, and ditches they could fill. So why mine?
So does someone have a grudge? Is Róisín Ingle coming all the way out here to deposit her empties and empty her deposit? Is it the American Ambassador perhaps? Or George W himself? I know it's not Bertie, because the beer is the wrong brand.
Are they trying to tell me I'm a little shit and an alcoholic?
Or maybe it's a token of affection? Could Twenty Major be camping outside the home of his idol and leaving little presents for me?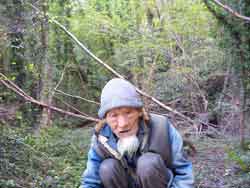 Twenty dropping a poo in my woods
In the meantime, it is a bit annoying, as I have to collect all these thing and dump them over a neighbour's wall.