I love the tolerant attitude of some Americans.
The Land of Freedom.
We presumably have all heard of Wikipedia? The on-line encyclopaedia?
Some Americans have taken great exception to this. So much so that they have started their own.
Now Wikipedia contains millions of articles, so they have a lot of work ahead of them. What on earth could upset them so much that they have to take on such a task?
Well, for a start, apparently Wikipedia refers to dates in the format B.C.E. instead of B.C. and C.E. instead of A.D. There is no difference between these. This is 2007 A.D. and it is 2007 C.E. It's a bit like Celsius and Centigrade. So why are they complaining? Well, apparently C.E. means 'Common Era' and was introduced to remove the religious connotations in B.C. and A.D. so as not to offend non-Christians. But instead it has offended the Christians. So they are re-writing the encyclopaedia!
I suppose next they'll be changing the days of the week because they are named after Pagan Gods?
There is another thing that galls them.
Wikipedia insists on using 'foreign' spelling. Now what is 'foreign' spelling? Apparently it is the usage of English spelling in the English language. So the English are speaking a 'foreign' language? I love it!!
They say that all of Wikipedia is biassed. In other words, it says things they don't like. It presents both sides of the story and they don't like that. It is not Christian enough. It is not American enough.
They give a list of reasons why Wikipedia is biassed. Read it for the laugh.
I came across another classic in John Mortell's blog. I hope he doesn't mind me borrowing it?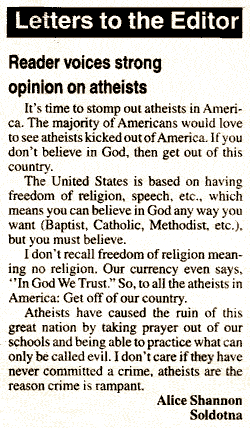 I love this letter. It shows a logic that is mind-numbing.
So freedom of religion means you have to believe!
And the last sentence – "I don't care if they have never committed a crime, atheists are the reason crime is rampant". Wow! That is an argument I'd love to hear debated.
Presumably Alice Shannon is equally intolerant of Islamic Fundamentalists? You're heading down the same path, Alice.
I'm sorry for constantly harping on about the Americans. But you see, there is a harp on the Irish coinage so I have to.