The World's Number One Terrorist has now been causing mayhem for four years.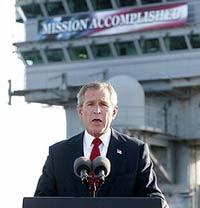 It is worth noting that more Americans have been killed in Iraq than died in the World Trade Centre attack.
So George W is doing Al Qaeda's work for them and more successfully.
That of course doesn't include other nationalities. And it doesn't include civilians – men, women and children.
Actual figures are given here.
And what was this for?
Is Iraq a safer place without Saddam? Emphatically no.
Were there Weapons of Mass Destruction? No.
Is America a safer place? No. Iraq was never a threat anyway.
What has this unilateral war achieved apart from murder and mayhem? Nothing.
I saw two people interviewed during the week. One was an Iraqi who was emphatically anti-Saddam four years ago. He now wishes Saddam was back. "He was tyrant but, but this is far far worse". The other was a poor deluded American soldier. He has lost both legs and has a severely disfigured arm. But he says "he is glad he went because America is now a safer place".
What kind of madness is this?