There is a Pong in the house
So Playstation 3 is going on sale.
But how many of you remember the most addictive game ever?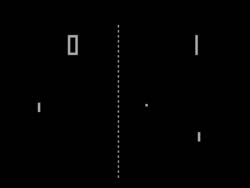 Pong was introduced in the 70's and was revolutionary. It was revolutionary for one simple reason – it was the first video game you could play on your own television.
A friend of mine got one in the mid 70's and we literally used to spend hours playing this. You plugged it into the back of the telly and into the mains, and each of us had a small yoke with a little knob on [sounds like Bertie Ahern!].
We would then sit on the floor, transfixed at the little ball bouncing around the screen as we waggled the paddles to try and hit it.
With hindsight of course, it could not have been simpler. Compared to modern video games it was the pea-shooter to the nuclear missile. But it was the first time anyone could interact with their own television. Nobody nowadays could possibly understand the wonder of that. You are so used to computers, and machines that think, and graphics that are almost lifelike, that you could not imagine a time when these things didn't exist. But it isn't that long ago.
Of course any modern games enthusiast would sneer at it now. After all, you can't kill anyone in the game. And that seems to be the pre-requisite of most modern games. The more violence, the better. And it was in black and white.
But we relaxed with the game because it was slow. It was simple. You didn't need twelve fingers on each hand to control it. We weren't sitting waiting frantically for Pong V 2.0 to come out. We had no idea of the future crazy world where people would go into a frenzy to spend €600 on a games machine.
Ah! The good old days!