I received a very strange e-mail.
It isn't spam, and it is addressed just to me.
I think he may be a little confused as to exactly who I am, or what I do, or even what a blog is.
I have to edit the letter just a little to prevent all my p0rn0 friends dropping by in the future:
Hi
My name is Chad. I am an amateur adult film actor who wishes to go professional in the g*y male an*l s*x genrie.

Please send me a media packet at your earliest convenience.

Chad
Thank you for your kind offer Chad. I am a bit of an amateur myself, so if I need to act the part of myself in my forthcoming film, I will doubtless cast myself.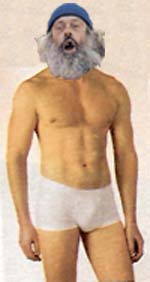 This is me singing the lead in Rigoletto at the Royal Opera House in Covent Garden. It is the only media packet I possess. Will that do?