I took a swipe at Róisín Ingle once before, but that was at the behest of Herself. Today I am taking my own swipe. It's nothing personal. It's just that I hate to see large areas of newspaper go to waste. So maybe I should address this to Geraldine Kennedy instead? No. I'll leave it as it is.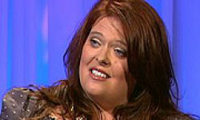 Dear Ms Ingle,
I read your article in the Irish Times with disinterest.
You managed to fill a full page on the subject of why you are happy to remain childless, or "child-free" as you inelegantly put it. Well, as the Bard once said – "The lady doth protest too much, methinks." I would humbly suggest the cure-all espoused by my spouse that what you require is "a pint of Guinness, an old time waltz and a good ride". That might solve your delemma.
However, I am not writing to suggest a cure for your woes.
I am not a literary critic. I would not even class myself as a writer. I would be more inclined to place myself in the genre of the literary hack. A genre with which you should be familiar. I am therefore in no position to judge the writings of others.
However, I am a consumer. I buy the Irish Times, and as a consumer, I have a right to complain about the quality of the goods I purchase. Also I am a reader, and I know what interests me. Or more importantly, what disinterests me.
Occasionally, you produce good material. One article you wrote recently on the subject of religion was good. But you have a habit of resorting to your overriding obsession with yourself. and that is tedious. I get the distinct impression that you are struggling for material. Should the muse desert you, I would suggest that whatever subject you eventually decide to write upon should exclude the words 'I' amd 'me'. Take that as a challenge.
You are paid well to produce your column. There are many good, even great writers in the world of blogging. They do it for the love of it. The difference shows. Their writing is interesting. It is often funny. It is rarely self indulgent. Maybe your page should be handed over to a different blogger each week?
My suggestion to you Ms Ingle is to either piss, or get off the pot.
Yours affectionately,
Grandad