Watch it Róisín – She's out to get you
Herself is hopping mad.
Nothing strange there, says I.
Apparently she has been reading Róisín Ingle in the Irish Times.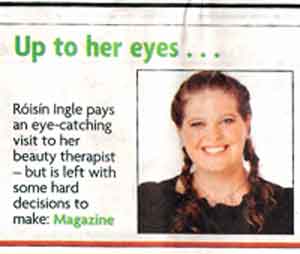 "I have never read such a load of self obsessed, boring, self indulgent tripe in my life" says Herself.
"That woman should go and spend a year or ten helping the poor in Africa or something, and stop writing about her f*cking eye make-up."
"I mean, who wants to read chicklet sh*t like that" [Herself was really worked up] "She is worse than Cecelia Ahern".
"Ah hold on!" says I, "that's a bit harsh. No one is worse than Cecelia Ahern."
"True" says Herself, "but she comes close."
"You get your arse in gear and go out there and write a much more interesting article, Grandad.
You never know, you might get her job and the world will be a better place".
For those of you who are not familiar with Róisín, she is a journalist who has built quite a reputation on the blogosphere. I found one mention of her in Skin Flicks. I'm sure there are a lot more.
"But I don't know anything about makeup or Róisín Ingle's eyes" says I, "and I'm not sure I want to"
"Listen" says Herself [she's always telling me to 'listen', as if I had a choice] "we don't want to know about her baggy eyes, or the trouble she has with makeup. We want to read about something entertaining. Something to make us laugh"
"But I wouldn't know what to write about" I stutter.
"Listen" [she's at it again], "That one hasn't known what to write about for the last four years but it hasn't stopped her"
"But I don't make people laugh" I said hopefully, "I only annoy them and they post rude comments about what I've written"
"I bet they're not half as rude as the things people say about Róisín Ingle" says Herself.
She probably has a point there. She has a nasty habit of winning every argument anyway.
"Go on. What are you waiting for? Any of your tripe is better than the rubbish she writes. Just stay off the subject of George W and Mary Harney and you'll be grand. And you know the Irish Times likes your writing because they keep publishing it."
"But they asked me to"
"They didn't ask last week when they printed that bit of your writing in the Blogspot in the magazine"
"But John O'Neill probably just had a bit of space to fill and he happened to find one of my paragraphs that fitted neatly. It doesn't mean I'm a journalist"
"Stop arguing." says Herself, "Get writing, or you don't get the remote control back"
I feel sorry for Róisín. I don't know what she did to deserve this. I don't read her myself. I prefer Brendan McWilliams and his Weather Eye. I'm sorry Róisín, but She Who Must Be Obeyed has spoken.
So I suppose I'd better toddle off now and see if I can find something more interesting than Róisín Ingle's eyes to write about.
A daily account of the growth of a tomato plant? Ten different ways to wash your car? The fascinating sport of watching paint dry?