Yesterday we had to take a trip.
Herself had an appointment to have some tests done. I think they were checking her for Mad Cow Disease or something.
And with typical Health Service efficiency, the test was in Arklow. Now I have nothing against Arklow but it is a hell of a long way away. Why they couldn't have picked somewhere closer, I don't know.
Anyway we got to Arklow, and found the test centre. A caravan, for God's sake!! And in a Tesco car park!! So Herself toddled off, and Sandy went to sleep in the back seat, and I went to sleep in the front seat. She came back an hour later and woke us.
"I'm just nipping into Tescos for a packet of biscuits. I won't be a minute" says she.
I wasn't fooled. I know Herself of old. So does Sandy. So we resumed our positions and tried to go back to sleep. But we couldn't. So we chatted for a while about the state of the world. We counted how many SUVs were taking up two parking spaces [most of them]. We listened to the radio and to some CDs. People came, went into the supermarket, and came back later with full trolleys and went home. We memorised the ads around the place "Tescos – we save you money". Hah! They don't know Herself. We waited.
After about an hour and a half, she rang me. Well, she tried to ring me but she hasn't got the hang of mobiles yet, but I knew it was her.
I left Sandy in the car and went in. I eventually found her [having searched every inch of the rest of the shop]. She had two overflowing baskets.
In the middle of the aisle, she started to unpack them to show me what she'd found. Mountains of children's clothing. Books. DVDs. Kitchenware. Flowers. I managed to slip the DVDs out when she wasn't looking [they were films we'd seen ages ago] and suggested we check out.
In the middle of the check out process, she suddenly disappeared. She came back a minute later.
"I forgot the biscuits" says she.
The bill came to €125. Not bad for a pack of biscuits!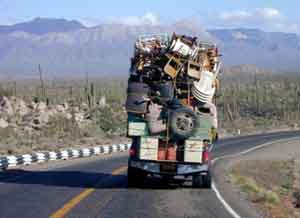 We unpacked at home.
"Why did you get so many children's clothes?" says I.
"They are for birthdays" says she.
I pointed out that the grandchildrens' birthdays aren't until July and October.
"And why did you get a sauce boat?" I asked. "We already have one"
"I know" says Herself, "but it doesn't have a saucer. And it will be nice on the table next Christmas"
When we came to the flowers, I restrained myself from pointing out that we have a lot of flowers in the garden at the moment.
There were a few other things that we will probably never use. We certainly didn't need them.
I was very good. I didn't point out that the whole thing cost us a fortune. I didn't point out that we'll be having mince for the next month. I didn't complain.
But she saw the look on my face.
"Look" Says Herself "We needed these things. Stop sighing. You just don't understand"
She got the last bit right.
P.S. I just had to add this……..