I am a bit bemused by the reaction to myself, Herself and Grannymar [who seems to have been lumped in with us, whether she likes it or not].
When I started blogging, I didn't think that was anything unusual. Lots of people blog. It never occurred to me that age might be a factor. So it is apparently unusual for people of our 'mature years' to get on-line.
Anyway. There have been posts about me and Herself on several blogs now. We have had mentions in Michele's blog [a few times], and then there was Cormac Moylan and now John of Dublin is getting in on the act. There were probably more, but you know what my memory is like. And they all refer to us as Oldies and OAPs [except John who calls us 'kids' – thanks John!]. And they are all talking as if we are a 'new phenomenon'! The Oldies Are Revolting! [but you know that.]
Maybe we should form an association? I can't think of a name for it at the moment, but I'm sure one will come to me. We can campaign for our own slot. We will demand our own categories in bloggers directories. We will campaign for our own Irish Blogs Best Oldcomer Award. Maybe we'll start our own Golden Age Spider Awards?
Entry to the association would be on the basis of age. We'll be fair and let some young people in, so maybe set the age limit at 50? Old people who are dead can have honorary lifetime memberships. If you are too young – don't worry. All you have to do is survive a few more years. You'll get there yet. And sooner than you think.
We are just like you, you know. Maybe we walk a bit slower, and smell a bit from time to time, but we still [mostly] have our marbles.
You should read us more. We are the voice of boredom wisdom. We have been there. We have seen that. We have worn the tea shirt.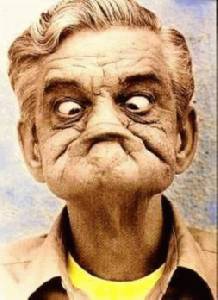 We are now what you are going to become.