I was trying to tidy this site recently.
I realised that I had no category for The Family.
Categories are tricky things. Too many and you end up with a huge list that is boring. Too few and you end up with dozens of posts in each category. But if you add a new category, you have to trawl trough all the old posts to find ones that fit into that category and edit them. That is a pain in the bum.
But the family is important, so I went through all the posts, and found I had never given Herself a real mention.
I suppose it is a bit late now as you will more or less know her as she crops up everywhere. She has a habit of doing that when I'm least expecting it.
When we are in the house, she is everywhere, and I keep falling over her. But outside the house, she just disappears. It's very strange. I caught this picture of her in France. I was still getting out of the car, but she was gone already.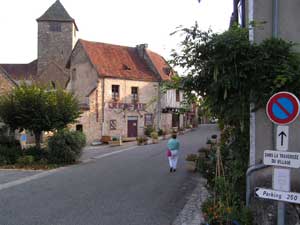 We get on very well, provided there are no weapons around. We like the same things with a few exceptions. The biggest exception is shopping. Like most women, she gets withdrawal symptoms if she hasn't shopped in a while.
"I want to go into town"
"What for?"
"I want to go to the shops"
"What do you need?"
"I don't know until I get there"
*sigh*
I drive her because she doesn't drive herself. She took lessons once. The instructor was reduced to a quivering jelly and has never been the same since. He now has a phobia about cars. I tried to teach her once, and that was one of the two occasions she tried to kill me. But that is a long story and will have to wait until another day.
She is ambivalent about my Blog. Half the time she bitches about my spending too much time at the computer, and how I'm chatting up strange women on line and don't I realise how sad that is. She doesn't like my getting mails, because she "has heard of other people starting relationships on line and leaving their wives". I keep telling her this isn't the case and chance would be a fine thing anyway.
Other times, she won't shut up about the blog. She goes up to complete strangers and announces that her husband was in the paper again the other day. As if they care. I don't know what she'll be like if that CapitalD programme goes out.
I'm banned from talking about the blog at home, but every now and then, she'll start up with ideas that I have to blog about.
"You'll have to write about that"
"I can't. I'd be sued"
"But no-one reads your site anyway, so you won't"
"So what's the point in writing about it then?"
"Because the Irish Times might print it"
"Then we'd both be sued"
I went down to the village the other day, and got chatting to people, so I was away from the house for a while. When I came back, she was sitting with my laptop on her knee. She was all excited. I glanced at the screen to see what the fuss was about.
Oh Mother of God! She had discovered eBay!
I asked her if she'd bought anything and she swore she hadn't.
But last night, they showed eBay on the News. They were celebrating with balloons all over the building and champagne flowing. They said they were celebrating their latest customer. They didn't mention her by name, but I knew who it was, and I knew why they were celebrating………