Do you have a dog that needs grooming?
If so, I have a suggestion.
Our Sandy sheds hair like leaves off a tree in autumn. They waft gently in the breeze across the wooden floors and collect like snowdrifts against the walls and chairlegs. We spend our time sweeping the floors, and I spend a lot of time combing her. As a result we end up with great balls of hair.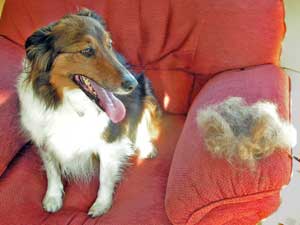 At this time of year, I chuck this hair out the window, into the garden. That may sound slovenly, but there is method in my madness.
The birds love it.
They are nest building at the moment. In fact there is a blackbird building a nest just outside the kitchen window, where we can watch progress. He started off with small twigs, and is now at the moss stage. Soon it will be time for the dog hairs, so I put a special clump on the bush nearby just for him.
It is a common sight to see a bird flying across our garden with a huge moustache of dog hairs. They tear each others throats out to get the best ones. It's great fun.
And in autumn, I often find empty nests that are beautifully lined with Sandy.
Last spring, a pair of Collared Doves nested in a bush at ground level, which wasn't very sensible.
Thay had one offspring who would sit on the branches and wait to be fed. Our Sandy got very protective of this fledgeling and would spend all day guarding it. She would lie on the ground under the bird and ward off any predators. I tried to photograph her and the bird, but any time I got near, she thought I was out for a game and would start playing, so getting a photo was difficult.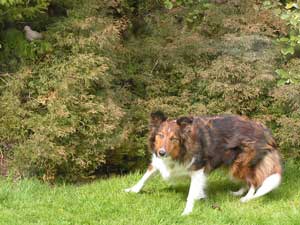 I did manage to get one. You can see the dove at the top left of the picture. I found the nest later in the summer – full of Sandy hairs!
So, if you have a dog that you groom, chuck the hair into the garden. The birds will love you for it.