Clancy is going too far this time
I read a piece by Ellybabes the other day. I could not believe it.
I am REALLY annoyed.
Those smug self-righteous do-gooders in A.S.H are at it again.
They want to ban smoking in cars.
They can go f*ck themselves.
I have been driving for the last 36 years [well, not all the time, but I've had a licence that long]. I have always smoked my pipe in my car. I haven't killed anyone yet. I have never had an accident as a result of my pipe. I have not smoked if there were others in the car unless a) they smoked too, or b) they wanted me to.
It is my car paid for with my cash. It is my property and I will do what I damn well want in it.
They cite passive smoking. Hah!! The only other person who smokes in the car is Herself, and I find the smell of cigarettes so bad I open her window wide every time.
They cite that it is dangerous – "Smokers must light up, hold the cigarette, deposit the ash and dispose of the cigarette – all whilst driving." Well, open your f*cking eyes – there is a lot going on in cars that is a lot more dangerous. And give me one – yes, just one – example of an accident that was caused by a cigarette.
And they say that the use of mobile phones has been banned. Mobile phones, even if they are voice activated and hands-free, require concentration. You have to concentrate on the conversation and not your driving. Dangerous. As is listening to a talk programme on radio. Joe Duffy probably causes more accidents than smoking, but he's not banned.
I have seen a few strange things. And I don't mean at traffic lights. I mean on the dual carriageway, in rush-hour at at least 30m.p.h. [OK, it was quite a few years ago now but I bet they're as bad still].
Here goes…
Drinking out of bottles or cans
Eating sandwiches
Eating breakfast out of a cerial bowl [no kidding!]
Reading books [yes – at speed]
Reading newspapers [yes – at speed]
Combing or brushing their hair
Drying their hair
Shaving
Putting on eye make-up
Putting on nail varnish
Picking their noses [and examining the results]
Admiring the man / woman in the car next to them
Driving with a baby on their lap
Driving with a dog on their lap
Taking off coats or jackets
Changing CDs or cassettes or tuning their radios
I'm sure I've missed out on a couple, but you get my point.
All of the above are a hell of a lot more dangerous than smoking.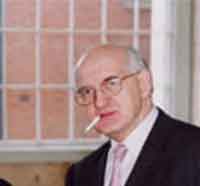 Luke Clancy
So, Professor Luke Clancy, get off your sanctimonious, holier-than-thou, smug, self-satisfied high-horse and open your eyes. You, and your lot are obsessed. If passive smoking were the only threat to human existance, then maybe you'd have a point, but there are a lot more dangerous things out there. Like drink, guns, knives, fast cars, and most of all – stupidity.
If you don't like smoking then f*ck off to Greenland or Antartica or somewhere.
If I want to damage my health, that is my right. I am harming no-one but myself. And if you don't like that you can stick it up your arse and set fire to it.