Why has our culture changed so radically in the last fifty years?
When I was young, when we weren't at school, we played outdoors. If it was raining, we played in someones garage or garden shed. The world was one great adventure playground. We used to make our own toys. Hurling sticks became rifles, and the ultimate was a homemade soap-cart.
I grant you there wasn't as much traffic then, so we could play on the street and would only have to dodge the odd car but that apart, the physical world is much the same.
But it is different now. You don't see many children on the streets. I haven't seen a soap-cart in decades. I haven't seen a game of marbles or a game of chasing. All I have seen is shiftless kids either hanging around aimlessly or kicking a ball around.
There is only one thing I can think of that has caused this radical change in society.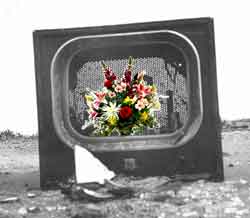 Television.
There are several things wrong with television.
It provides you with a means to sit and do absolutely nothing. You don't have to think. You don't have to use your imagination.
And the programmes show you a world that, in the main don't exist. They show you happy couples living in beautiful houses, and they all have great jobs and they are all so happy. So you begin to think to yourself "why isn't my life like this?". Or they show you fantastic foreign scenery and tell you how wonderful it is there, and you say to yourself "I want to be there". In other words, television breeds discontent.
Television should be a means to tell you about the world. Instead, it has become the world. People get upset if their favourite soap character gets sent to prison. They rant and rail if their favourite is voted out of Big Brother. They can't wait to tell you all about their favourite programme over coffee in the canteen.
And then of course, there is the advertising.
This is not designed to inform you about a product. This is designed to worry you and make you discontented, so you are only going to be happy again if you buy their product. [This incidentally, is not a theory – it is a proven method of advertising]
They tell you your house is crawling with germs and bacteria, and the only way to get rid of them is a large bottle of Splurge. Or if your children don't take a certain type of yogurt they are going to grow to be stunted unhealthy runts. It is all a load of b*ll*x.
So advertising breeds discontent.
And the only way to satisfy this discontent is to try to make your house into a film set, or drive the latest SUV or buy whatever product is going to save you from a certain and nasty death. So you spend large amounts of money buying these things you don't need. And you get into debt. And the advertisers come along and say "What? Will no one lend you money? We will lend you shed-loads more. Just phone 555-555-555", so you get even further in debt.
So television is turning the world into a society of debt-ridden, scared, discontented and unimaginitive people.
I'd rant on a bit more, but my favourite programme is about to start.