"I am not a racist" says Goody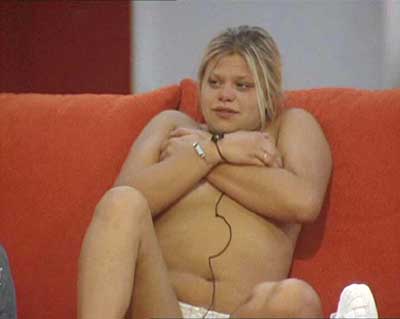 "I am not a racist" said Jade Goody the other night after her eviction from the Big Brother House in an exclusive interview with Grandad.
Speaking trough an interpreter, she denied racist and bullying comments.
"Shitty and I am good friends" she said.
Upon being reminded that the other contestants name was Shetty, she replied
"It's the colour of her skin. It makes me think of shit".
Asked if this was a racist comment she retorted
"I am a mum. I am 25"
and went on to explain that many of her children had non-English fathers.
"I look like a complete and utter nasty small person" said Goody, thereby proving that the programme had done some good.
"I mean no actual hate or nastiness. I can't dignify myself, I am not going to sit here and justify and say I didn't mean it. Yes I said those things and they were nasty but I am not racist".
As that last sentence was rushed off for forensic analysis, she continued
"I am not racist, and I will kill any f*cking nigger, wop, towelhead or paki what says I am."
Jade is expected to be invited to join the board of the United Nations Peacebuilding Commission.
Editor's note: The Jade Goody referred to above is not, of course to be confused with the Jade Goody who was evicted from the Big Brother House the other night