I am sick.
No, I'm not sick with the virus: I'm sick of the virus.
During the day, Herself likes to listen to the radio, and for the sake of companionship I leave her door open. I therefore hear the radio throughout the day. Normally it's just a background drone and while I'm not interested in listening I still hear the gist of the programme.
During the evening I move in with Herself and we watch television together.
Now her radio station of choice is RTE Radio 1. For the last couple of weeks it had dedicated every single fucking programme to the virus and related topics. Worst of all is Joe Duffy in the afternoon with his phone in programme who revels in the virus. I hate his programme at the best of times but lately he is really pissing me off. He has taken to telling us to wash our hands at regular intervals but it comes out as a thoughtless drone which he just tacks onto the end of a sentence like some kind of new full stop – "Our phone number is 51551 wash your hands". Fuck off Joe. You are a massive pain in the hole.
Last night Herself wanted to watch the Late Late Show on RTE. Naturally the entire show was dedicated to the virus. We had to watch an interview with a bunch of pilots who are part of a series of fights between here and China, picking up medical stuff. To listen to the interview you would swear these pilots had flown through heavy flack and fought off squadrons of fighters to get food into a besieged starving country. They were lauded as heroes and of course we had to have constant reminders of our medical heroes on the front line who are apparently saving the country.
Yes, I know doctors, nurses and other staff are working flat out to fight the virus and I do indeed admire them but we are going fucking mad lauding them. We had an evening where the entire country was to go out to the garden and clap in support of Our Heroes. What fucking good did that do? Next weekend we are to put lights in our porches in support of Our Heroes. What the fuck?
What about firemen, ambulance drivers and lifeboat crews who year after year risk their lives? What about the electricity crews who head out in the middle of a storm to work on live systems to restore our power? They too are heroes but never get so much as a single clap or a single candle.
You now that annoying little logo that stations stick on the corner of programmes to let you know what station you are watching, as if you were daft enough not to know? Well, I notice that RTE have changed their station identity.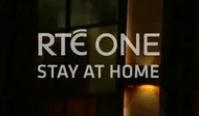 What the fuck is that supposed to be about? Is it an order? Is it just a reminder that we are all stuck in the house, like we really need to be reminded?
Damn but I'm sick of it.