Yes, I have been unfaithful.
For years I have been extolling the virtues of Linux Mint, but I have gone over to The Dark Side.
When I got this laptop it had Windoze 10 installed. It also had a gigantic hard disk of one terrabytes which is one hell of a lot of space. Naturally I wiped the disk and installed an older version of Windoze [7, I think but it's a while since I ventured into it].
It still had a moxy load of space left so I installed Linux Mint and just for the laugh I installed Ubuntu as well.
Since then I have been happily working on Mint but the other day I decided to experiment. I copied over some of my files [mail, browser files and the likes of Documents] and fired up Ubuntu. Everything worked and I have been using it ever since.
I like it. I don't know why. Maybe it's the fact that it looks even less like Windoze? It is certainly different from Mint. It takes a little getting used to and I still check the time in the bottom right hand corner only to realise that it's now at the top centre.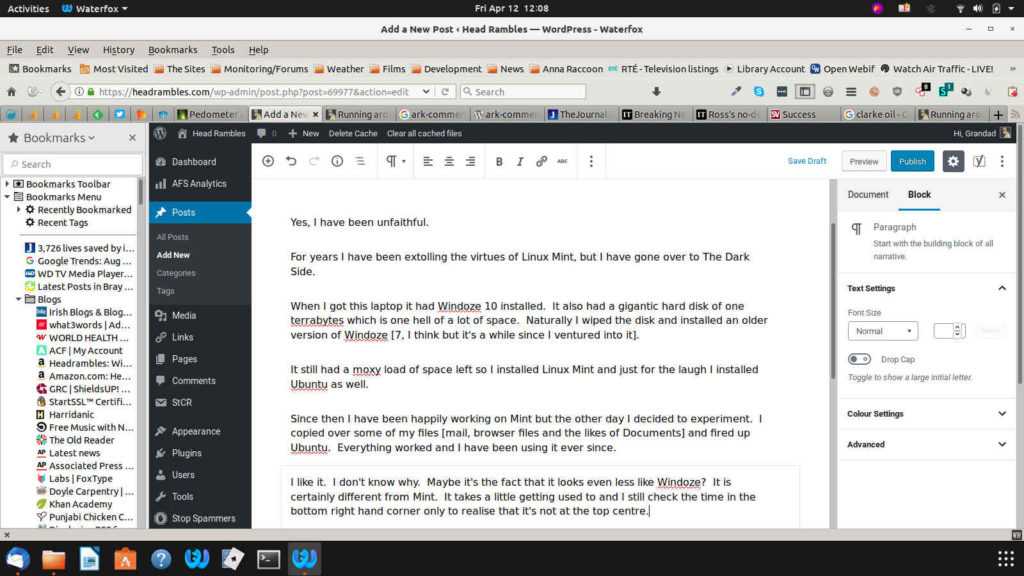 Finding programmes is a bit different too. Instead of a little menu with categories such as Sound or Administration, I just get a screen full of icons which is colourful but a little confusing [I find myself clicking them just to see what they'll do].
I think I'll stick with it. It's not for the faint hearted and certainly would confuse someone used to Windoze.
Sorry Mint!