There is a report out which is receiving a lot of prominence here in Ireland.
They say that rates of cancer are likely to double in the next twenty five years.
What amused me was that the Irish Times printed an image at the top of their article –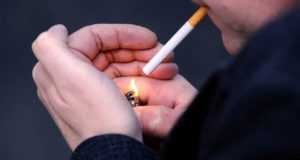 However, there was only one brief mention of smoking in the article –
Some trends are contributing to lower rates of cancer, such as increased screening and reduced smoking rates, while growing rates of obesity are leading to an increased incidence of some cancers.
Switching over to another source – The Journal – [which makes no reference to smoking at all] we get the statement –
Using this model, cases of prostate cancer, lung cancer and colon cancer are set to more than double in the next 25 years to 6,880, 5,450 and 3,810 cases respectively.
So by their own admission lung cancer rates are in fact increasing markedly.
We now have a situation where smoking rates have dropped dramatically, yet cancer rates [including lung cancer] are increasing. Seeing as we are constantly being told that smoking causes lung cancer [and a load of other cancers as well] should we not be seeing an equally marked decrease?
There are only two possible conclusions one can draw from the report.
Either smoking has no effect on the rates of cancer, or else smoking actually protects against cancer, the latter case accounting for the reported increase?
Tobacco Control love to wring results from statistics, so why shouldn't I?
Proof that smoking protects against cancer.