Let's blame the Portuguese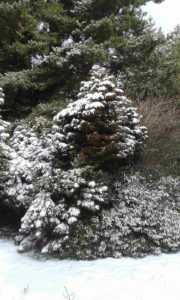 So it finally arrived.
Woke this morning to find there had indeed been a drop of snow overnight.  It's hardly what I would call Arctic conditions but already they are shouting Code Red and the counties along the east coast have ground to a standstill.
As is normal, Cat was bursting for a piss and yowling at the garden door to be let out.  I opened it.  Cat stuck a paw in this strange white stuff [she hasn't seen real snow before].  She pulled the paw out and looked at it.  She stuck the paw in a different spot.  Same result.  Cat decided that maybe a piss wasn't such a good idea after all and went back to bed.
Dog, on the other hand [paw?] stepped out into it and looked around.  She decided to have a bit of a runaround and eventually crashed back into the house with a big grin on her face.
Cat just came back and yowled at the door again.  Open door.  Cat stands staring while I freeze.  Cat refuses to go out but won't come back in either so I'm stuck there with the door open.  Fucked the cat out and closed the door.  Gotta be cruel [to the cat] to be kind [to me].  Cat has now vanished into the bushes and probably will not come back.
There is a storm coming in the next couple of days.  Apparently it's been named Emma and for some reason I cannot fathom, every single time the forecasters mention it they go to great pains to tell us that it was named by the Portuguese.  Is this weather their fault?  Anyway, there are to be blizzard conditions so the cat had better get used to the white stuff or she'll be sloshing around like a balloon full of water.
We still have no oil.  They were supposed to deliver yesterday but I have just checked their web site and it seems I have been postponed until tomorrow.  I hope we have enough to last as the boiler is running full blast.  At lease we still have powe