This bug [or whatever it is] that I have is strange to say the least.
It was sort of like a mild flu that affected the brain [brain flu?] but that was it.
Until yesterday that is.
All was well until I felt a rather disturbing sensation.  This sensation wasn't in the brain.  Far from it.  Literally.
I made it to the jax in the nick of time and the effect was rather explosive, to put it very mildly.  As great fortune would have it, Daughter had given me a book for Christmas – "52 things to do while you poo".  My daughter is slightly strange to say the least.  That book was very handy and as good fortune had it, it was to hand and in the course of the day I got through a fair bit of it.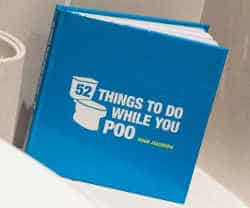 The day was punctuated with manic dashes which traumatised the cat and amused the dog.  There were frequent cries of "Get outa my way!", "I need more paper" and from Herself – "Jayzus will you close the fucking bathroom door and open the fucking window!"
By evening the worst of the storm had passed.  Things were beginning to quieten down, both literally and figuratively and the mad dashes had ceased.  I reckoned I must have lost about half my bodyweight but the sewage system seems to have coped, which is a bloody miracle to say the least.  The cat has come out of hiding and Herself has finally calmed down.   Even the all pervasive stench seems to be dissipating.
I'm back now to just the brain flu which is beginning to ease a little.
I celebrated this morning with a large, loud, dry breakage of wind.
It was a lovely sound.