Three months ago we got a cat.
It wasn't my idea.  I'm not that pushed about felines but Herself had been moaning for years that she wanted one and that I had the dog and that life wasn't fair and all that shit.  In the end, just for a bit of peace and quiet, I relented.
The cat arrived and the first thing the little fucker did was to bite me.
I'm not talking about one of those pathetic little scratches that would have a modern mum rushing little precious off to A&E but a real bite.  The tooth went right through the root of my fingernail.  It was really fucking painful!
I didn't realise quite how much damage had been done until the nail started turning colour.  And once the blood had stopped oozing it was replaced with liquid custard.  My finger swelled like a balloon and the cat was firmly off my Christmas Card list.
Eventually the swelling went down and various liquids dried up but the real damage had been done.  The little shit had killed my nail and it had stopped renewing itself.  I cut away the obviously dead bits and was left with a rather strange sight on my finger.  I had a double ended nail.
It wasn't sore or anything like that.  It just looked weird.  There was nothing I could do about it though and I would have forgotten about it only for the fact that I had to look at it all the time.  I have gotten to know it almost like the back of my hand
Since then, the old nail has been progressively moving down while a new nail is growing behind it.  No sweat.
But now it's reaching the end of my finger and is starting to tip around the end.  It looks like a lorry about to dump a load of sand.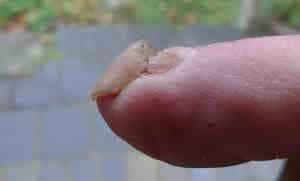 I now have a problem.  It's acting like a barb and  every time I stick my hand it my pocket, it catches when I pull my hand out again.  I suppose it's a fair reason for not buying my round down the pub though.  It's still held on with a fair bit of skin, or root or whatever the attaching bit is called, so I can't pull it off [I've tried!].  And one of these days it's going to catch in something and be ripped off, probably at a time when I least expect it.  That is going to painful and messy.
So now you know why the cat gets a boot up the hole every time he asks to be let out.