I could never quite get my head around this Marathon business.
It's somewhat akin to bashing your head against a brick wall, because it's lovely when you stop.
Today, 35,000 women are going to torture themselves by running ten kilometers with the sole and stated objective of arriving back to where they started from. Why the hell can't they do something that at least has some sort of purpose, such as running into work? At the very least that would save them their bus fare, train fare or petrol?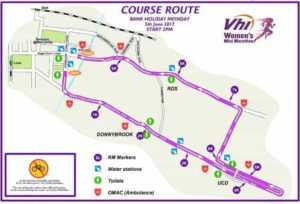 Click to embiggen
Just looking at the route I can see an obvious place where they can save themselves a bit of grief. Down at the bottom right at the top of Nutley [near UCD] all they have to do is skip that loop, thereby saving themselves about two and a half kilometers. But no – they will torture themselves by running all the way up to Fosters Avenue and then running all the way back again, so the lead runners can thoroughly demoralise those who are further back in the pack.
Of course it's all part of this health kick that's so popular these days. These women can proudly proclaim that they have brought themselves within an inch of a heart attack because it's healthy. They overlook the small point that running in circles in the heart of a city is going to fill them with diesel and petrol exhaust fumes which sort of defeats the health side of things?
I really cannot see any logic behind all this. I suppose a lot do it because it's some sort of challenge, but why not do something that at least has side benefits? Why don't they climb a mountain, for example? Apart from it having a definite goal [the top of the mountain], they can enjoy the view if/when they get there?
I have a good mind to head there and show them how it should be done. Start at the start, take a leisurely stroll to the finish, which at the most is about half a kilometer away and be sitting there smoking my pipe when the exhausted leaders finally arrive. I would achieve precisely the same thing but wouldn't be out of breath and pouring sweat.
I also wouldn't have to close half the roads in the city to do it.
Weird.