Did you ever go to a concert and have to wait hours for the act to arrive on stage?
That's what this fucking Brexit lark has been like, only it has been months rather than hours.  Personally I would have long left the concert hall in disgust. 
So the British gubmint has finally removed its collective head from its collective arse and signed the damned article.  I can only look on in envy and wish everyone happiness in their new freedom.
I just noticed a poll carried out and announced on Twitter asking people what they want repealed or otherwise brought back post departure.  It's interesting that the death penalty tops the list?  It's also quite interesting that the smoking ban makes an appearance in the top seven?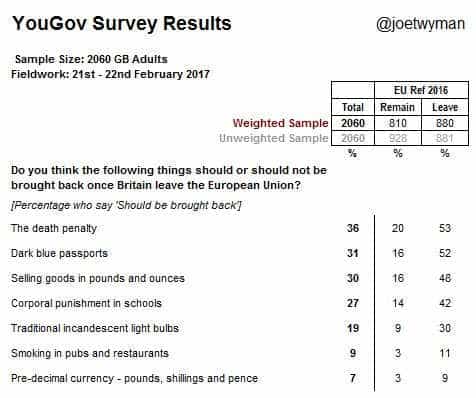 The meeja here are running around in their usual frenzy, seeking out people who foresee doom and disaster.  There are incessant mentions of border posts being set up again and trade vanishing down a black hole.  Very few have mentioned the obvious solution – that we should leave too.
Think how many problems that would solve.  No worries with land borders between EU and non-EU.  We could set our own trade agreements with the UK.  The fishing industry would become Irish instead of Spanish [or Russian].  We could tell Brussels to go stuff themselves and the Troika could be strung from lampposts if they ever set foot in Ireland again.  We would be free to sort out the mess that is Irish Water.  Best of all, we would regain independence.
On second thoughts, why not start up our own little Union?  The Union of Great Britain and Ireland? [or maybe the Irish and Great British Union which would give us IGBU?].  That would also sort out the Norn Iron problem for once and for all, as well.
Unfortunately, our gumint's head is firmly and irrevocably stuck up the Brussels arse so that is less than likely to happen.
So I wish the British well.  May you have a happy voyage [even if it's going to take two years before you even leave port?].
Just spare a though for us Irish stuck out here in the Atlantic, all alone but still shackled to the monster that is the EU.
We will be like the Fourth Reich's outside toilet.