Well, I finally went and done and did it.
After years months weeks hours of procrastination I took the plunge.
I knew there were many pitfalls and dangers involved such as loss of vital data and even the possibility [God forbid] that I should be cut off from the world altogether, but it had to be done.
I upgraded my mobile phone.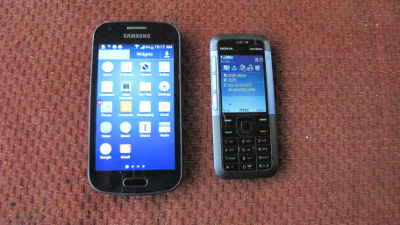 Well, actually it was more a case of downgrading but upgrading just sounds better? Sure isn't that what all the kids are doing these days?
The one on the left is my old one and the one on the right is my new one. Except that the one on the left is a lot newer than the one on the right, if you can follow that? Right?
The old [newer] one still has all the functionalities of all its gizmos, such as a little reminder of birthdays and tools for seeking out free wifi signals. The new [old] one has the amazing ability to answer calls just by pressing a button. No slidey fingers! No irritating messages blocking things! Someone phones me – I just press a little button and I can talk.
Actually the new [old] one is lucky to be alive. It has a teenchy little bit of discolouration on the top of the screen from the time in France when I dropped it into a big mug of scalding tea. A blast of a hair-dryer sorted it though. It has been around and suffered quite a few slings and arrows in its time. It wasn't long after that that I bought a new one which is now an old one. I just checked and the messages suddenly stopped nearly five years ago, so it has had a good rest.
Apart from being a lot handier to use, there was one thing I noticed almost immediately – it doesn't need recharging all the time. It has been going for two days now and that even included a long period where I had the Bluetooth switched on [so I could use the SatNav as a hands-free phone while driving], yet it still is indicating a full charge. The old one just sucked the bejayzus out of the battery even when it was doing nothing and I had to charge it every fucking day.
It just rang!
Spanner is calling to collect the car.
And I was able to answer straight away!