I had a bit of a wry chuckle this morning.
If you're going to have a chuckle, a wry one is as good as any other kind?
Anyhows, I was browsing the papers as one does and came across an item about Eir [can anyone beat that for a daft name?] what used to be Eircom, our main telephone company.
Now the article is just a thing about them raising prices [since when does a weekly occurance become newsworthy?] and I merely skimmed through it. But then I came to the line that was the cause of much merriment –
He added that any customer who had a question or query could contact Eir and it would work with them to find the most appropriate bundle based on their current spending and usage patterns.
Hah!
When did "he" ever try contacting them?
Now they have been doing fierce work out at my hedge for the last little while building fancy boxes that look more secure than Fort Knox. They are the much vaunted fibre cabinets that are to provide me with super duper speeds. I have naturally been curious and have been rying to get in touch with them for ages.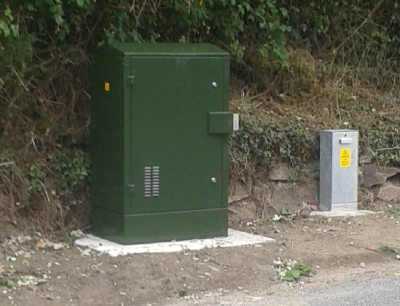 My wall, my brambles, their boxes.
I could phone them but that would involve endless menus of the spoken variety ["I do not understand – please repeat"] and life-long holding. There is no point emailing them so that left one option – Live Chat.
A few days ago I found their Live Chat thingy and it apologised and said everyone was very very [very] busy and could I please try again. Every time it was the same – no one available. Day after day, the same thing.
Anyhows I did actually get through to them on Live Chat this morning. I sat there waiting for the thing to switch from "Not available" to "Chat now" and clicked before it could flick bact to "Not Available" again. It took incredibly sharp reactions to click within the nanosecond allowed, but I did it.
Yer Man [I'll call him John, because that was his name] was very helpful. He contacted my exchange and assured my I was in a very high priority area and that's why there was so much commotion outside my hedge. I asked him how long and could I have it next week, and he said no but I could have it within six months. Maybe.
He told me that when it comes, I won't know myself for speed, will have oodles of television channels [I sincerely hope that means less than I have at the moment] and can make free phone calls all day and every day. In the meantime though all he could offer me was broadband about four times the speed I'm getting at the moment and the free phone calls.
I may go for it. It'll cost me around €50 a month [no doubt to be increased next week and every week thereafter] which is less than the €80 I'm paying for the two seperate services. Seeing as it will only cost me an extra €10 a month, I'll have two broadbands running in parallel and will be able to chat to myself via Farcebook. If it works, I can get the old broadband removed, but won't be able to chat to myself any more. We must all make sacrifices.
Interesting times,