This web site thing has me tearing my hair out.
I mentioned the other day that I had a bit of a fire in the engine room, and being aware that some of you may panic and have a heart attack, I played down the situation a bit. I mentioned a fire, but didn't mention that it was a fucking raging inferno that wreaked havoc throughout the entire basement area, wiping out the engine room, the power generators and the little store room where I keep my little collection of geological samples [my sedimentary rocks are now igneous rocks].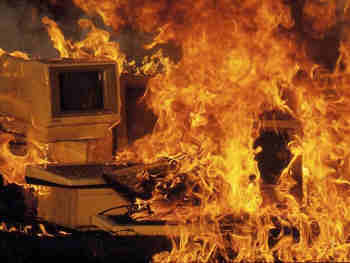 I sealed off the rooms where the fire raged and did the best I could with some string, some WD40 and a load of chewing gum and managed to patch enough together enough to keep the site running.
It was apparently caused when I made a tiny adjustment to a little plug-in thingy that was in a back room. The fucking thing burst into flames and then changed the security code on the door so I couldn't get in. That has never happened before.
Anyhows, I built a brand new site beside the old one. I did it from memory so it wasn't easy. To add to my difficulties I accidently used centimeters instead of inches and when I realised my mistake [it looked all weird and small] I had to start all over again.
I congratulated myself yesterday when I finished it off. I don't think anyone noticed any differences?
There are differences though. I left a whole load of crap to burn on the old site so the engine room has a lot more space in it. I have also done a major job of tweaking and adjusting so that the site runs a lot faster [I ran it through WebPageTest and got fours As and a B which isn't too bad?].
The strange thing is that all the public areas are apparently running like the clappers, but things are even more at a snail's page in the engine room. It takes ages to load any of the admin pages, and a lot of the admin thingies have stopped working altogether. I'm still working on those.
I have however completely replaced the power generators on the advice of The Foggy Mirror.
I'll let my engineer explain how it works as he knows how to cut through all that technical jargon.
And now my laptop has gone and broken itself, so I have to redo that from scratch.
What did I do to deserve all this?
FUCK!!!